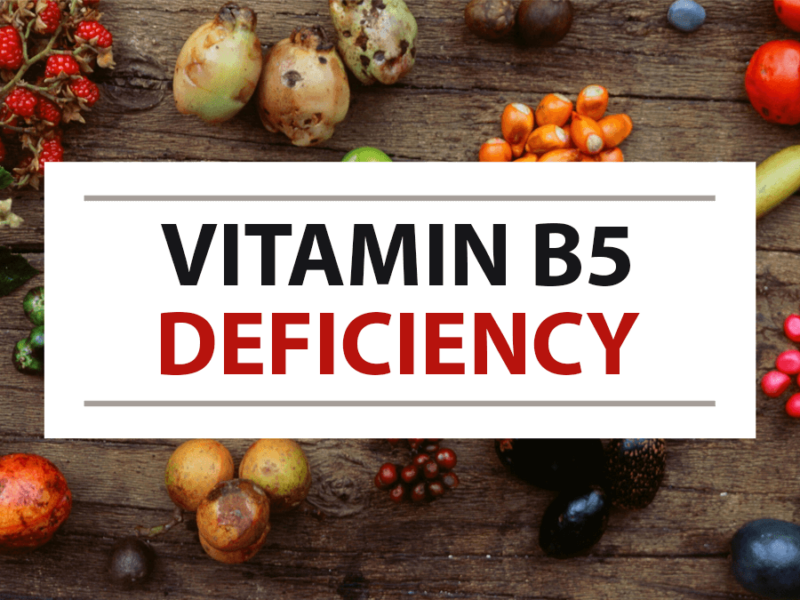 Vitamin B5, also known as Pantothenic acid is a water-soluble vitamin. It is one of the most important vitamins for human life. It helps to convert the food into energy.
All B Vitamins help convert the protein, carbohydrates, and fats into energy. Normally, Vitamin B5 deficiency is a very rare deficiency!
Also, Vitamin B5 deficiency occurs together with other B Vitamins and not in isolation. It happens in severe cases of malnutrition.
Symptoms of Vitamin B5 Deficiency
People suffering from the deficiency of Pantothenic acid, have symptoms such as: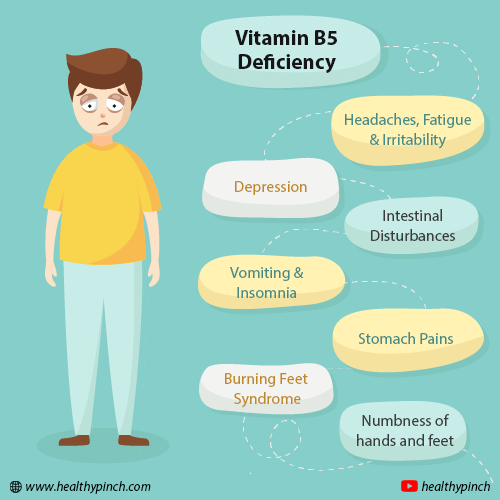 Headaches
Fatigue
Depression
Irritability
Vomiting
Insomnia
Intestinal Disturbances
Stomach Pains
Numbness and tingling of hands and feet
You will face these symptoms only when you have some other vitamin deficiencies along with the deficiency of Vitamin B5. Pantothenic acid deficiency alone cannot cause any medical problems as such.
Also, symptoms will go away as soon as you start taking enough Vitamin B5.
You won't suffer from any serious disease if you have Vitamin B5 deficiency in your body!
Supplements to Deal With Vitamin B5 Deficiency
Taking a multivitamin daily after meals helps in maintaining a perfect balance of Vitamin B5.
While taking Vitamin B5 supplements, one should always check with their doctor. As people who are on blood-thinning drugs, they can increase their risk of bleeding by taking Vitamin B5 supplements.
But it is always better to get vitamins from food rather than taking supplements. As whenever we have foods enriched with vitamins, they get absorbed and metabolized in a very effective way! It helps to get through the deficiencies faster. And it's a healthier approach after all!
Food Sources of Vitamin B5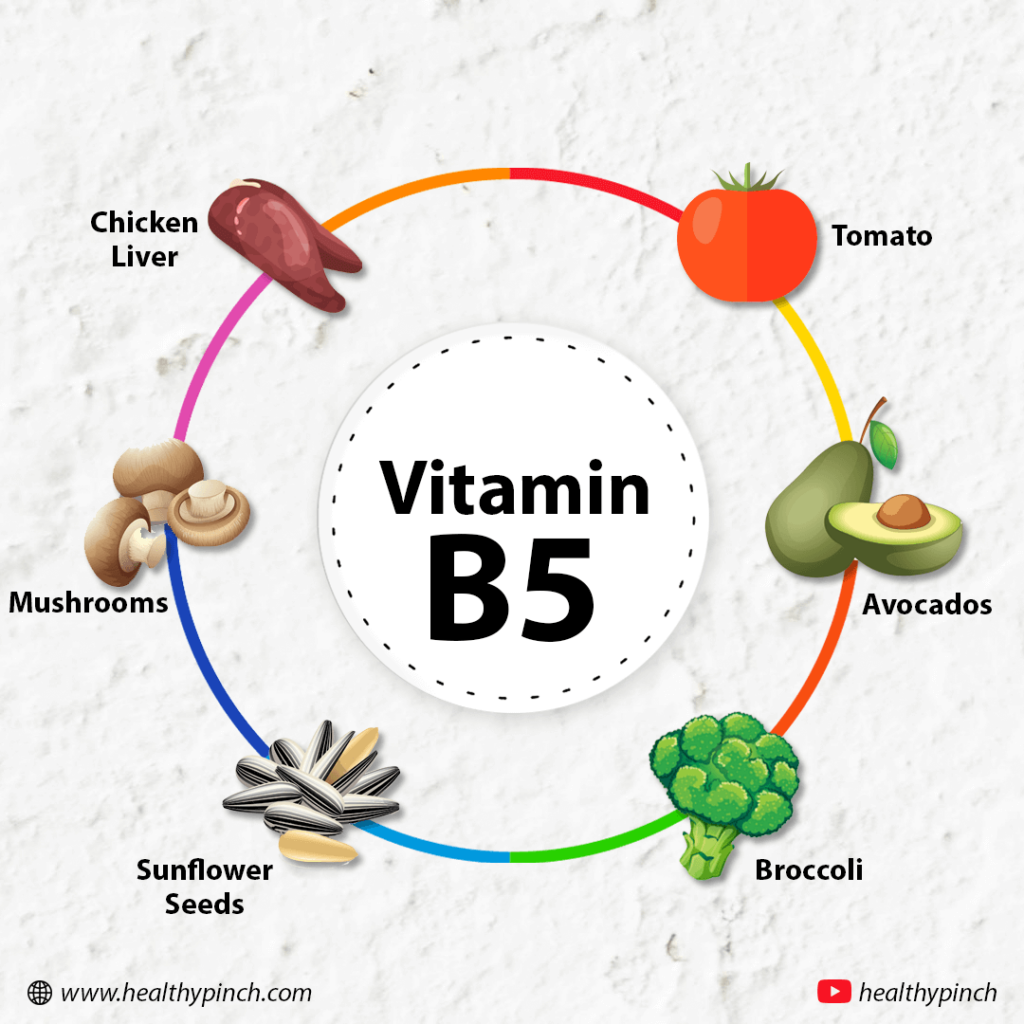 The food sources that will help you curb the deficiency of Vitamin B5 are:
Vegetables such as Broccoli, Mushrooms, Corn, Cauliflower, Kale, Tomatoes, Cabbage, and Sweet Potatoes
Grains such as whole-grain bread and cereals
Legumes such as Lentils, Soyabean, Split Peas
Fish such as Salmon, Lobster and Shellfish
Meat such as Chicken, Beef, and animal organs (liver, kidney)
Dairy such as Milk, Egg Yolk, Yogurt and other milk products
One thing to take care of while consuming water-soluble vitamins is that we should eat them raw and fresh as much as possible. Vitamin B5 gets lost on boiling!
Conclusion
Vitamin B5 is an essential vitamin out of all the eight vitamins that helps in converting carbohydrates into glucose, metabolizes fats, and proteins. It keeps our nervous system, hair, eyes, skin, digestive tract very healthy.
Please follow and like us: