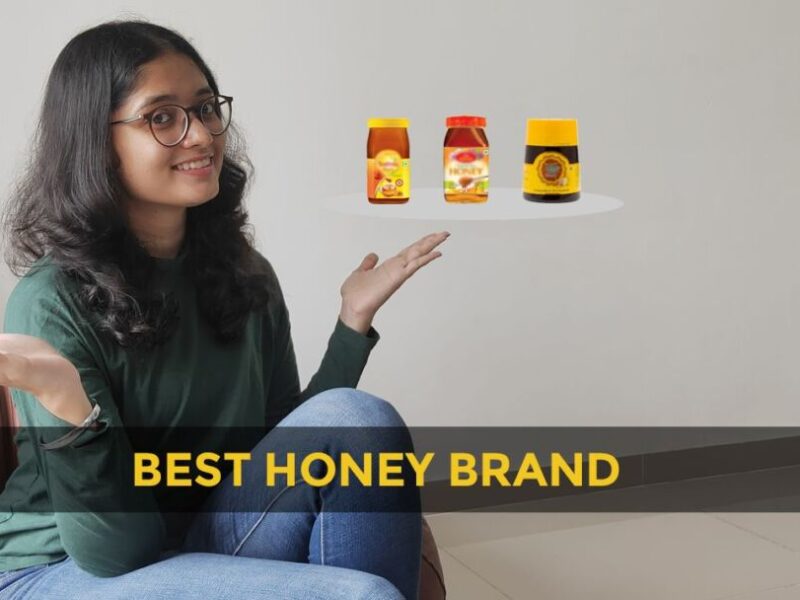 Honey is a natural sweet substance produced by the honeybees from the nectar of a variety of plants. According to Ayurveda, honey is a superfood that is full of anti-viral, and anti-bacterial properties. It is also an anti-oxidant source. But, do you know whether the honey you are consuming is pure or not? Do you know the best honey brand in India or the Indian market? Do you know the best honey brands which sell organic honey?
Mostly, in TV ads, we are shown a fixed color and consistency of honey and we believe that pure honey looks like that only, but we all are wrong! The bees collect nectar from a variety of flowers, so honey can never be of the same color and same consistency. Sometimes it can be of white color, yellowish, and even brown. And the consistency can vary, sometimes it will be thick, sometimes a bit watery kind. This helps us to conclude that the honey which sells in the market is not pure. All the ad agencies and big brands are fooling you. They are feeding you with adulterated forms of honey, rather than the pure ones. Due to this honey will never give you any of its benefits to your body.
How to select the best honey brand in India?
To find the best honey brand in India, CSE (Centre for Science and Environment) did a Honey Purity Test in which 13 brands participated. In this test, the honey was basically tested for the different types of sugars, if present in it. As sometimes honey is mixed with certain glucose solutions, sweet syrups, dextrose, molasses, sugar syrup, invert sugar, corn syrup, or any other similar product or even low-quality honey with high water content. Certain authenticity tests for C3 & C4 sugars were done on the brands. Additionally, some more tests such as fructose–glucose ratio, total reducing sugars, hydroxymethylfurfural (HMF), moisture, total plate count, specific gravity, antibiotics, acidity, total energy value, optical density, water-insoluble matter, and ash were conducted. These were conducted at a NABL-accredited lab.

Source: https://consumeraffairs.nic.in/
Few brands confirmed that they had C4 sugars. Also, natural honey contains protein but again to a surprise, many brands were lacking the protein that honey should actually have. And then NMR (Nuclear Magnetic Resonance) test was performed. NMR tells us the product composition at the molecular level. It was very surprising to know that the NMR test is not performed in Indian markets for Honey. And because of this, the test samples were sent to a lab in Germany to conduct this NMR Test. After the test results came, it was shocking to know that out of 13 brands, only 3 brands passed the Honey Purity Test and were considered the best honey brand in India.
How to buy the purest honey brand from the market?
You need to learn to read the label first. The label should not have HFCS (High-fructose corn syrup) or any commercial glucose present in it. Also, the 3 brands that passed the Honey Purity Test were: Saffola, Markfed Sohna, and Nature's Nectar. So, you could buy any one of these, but even after the research and tests happened, various new brands of honey have come up. So, if you are thinking to buy any of the new brands of honey, you could check the label and decide for yourself whether the honey is pure and safe to consume or not. Always check and buy the NMR-tested honey brands only.

You should also check these details on the pack such as:
Name of the material & grade designation
Batch or code number
Name of the packer
Net weight
Date of packing
Best-before date
Nutritional information
Standard mark (Agmark), if any
Green dot
Storage instruction
Customer-care details
MRP
And is recommended that honey should be packed in glass bottles rather than plastic ones, but it was found that very few brands had packed their honey in glass bottles.
There is also a myth that if honey is crystallized, it is not pure. The fact is the honey that crystallizes is the only honey that can be considered pure. So, whenever you buy honey, and your honey is crystallized in the bottle, be rest assured of the fact that the honey is pure.
How should you check the purity of Honey?
There are various methods to check the purity of honey and by following these methods you can actually decide the best honey brand for yourself:
Light a match and try to burn the honey. If it burns, it means the honey is pure, as honey is flammable. And if the honey is of low quality, that honey won't burn.
Try to dissolve honey in water. If it dissolves, it is not pure. Pure honey does not submerge in water.
Take a spoon of honey and let it fall from above. If it falls immediately, it means it has lots of water content. Good quality honey will stay on the spoon or will fall at a very slow pace.
Take some iodine, and mix it with honey. If that solution turns blue, it means the honey is impure.
Mix honey with vinegar. If it starts to foam, it means the honey is not pure.
Benefits of Honey
Honey has loads of properties in it: anti-viral, anti-bacterial, anti-microbial, anti-oxidant, anti-parasitic, etc. It also contains lots of minerals and vitamins (Vit A & C), iron, calcium, and 15 types of amino acids. The benefits that honey provides are:
Strengthens the immune system
Heals wounds and burns
Very good for normal flu, cold, and cough
Provides relief from seasonal allergies
Very good for skin makes it smooth and supple
Increases flexibility in the body, the reason why Yogis should have Honey)
Purifies the body, eliminates all the toxins from the body
Good for weight loss, as it boosts the metabolism of your body
Consume it with Neem and Haldi to get extra benefits of Honey.
Summary
Honey is a powerhouse of good carbs, natural sugars, vitamins, and minerals which helps to boost metabolism and makes you feel energetic. But, you should always take care that you should consume raw, organic, pure, and the best quality honey. Also, you should consume it in moderation.
Please follow and like us: