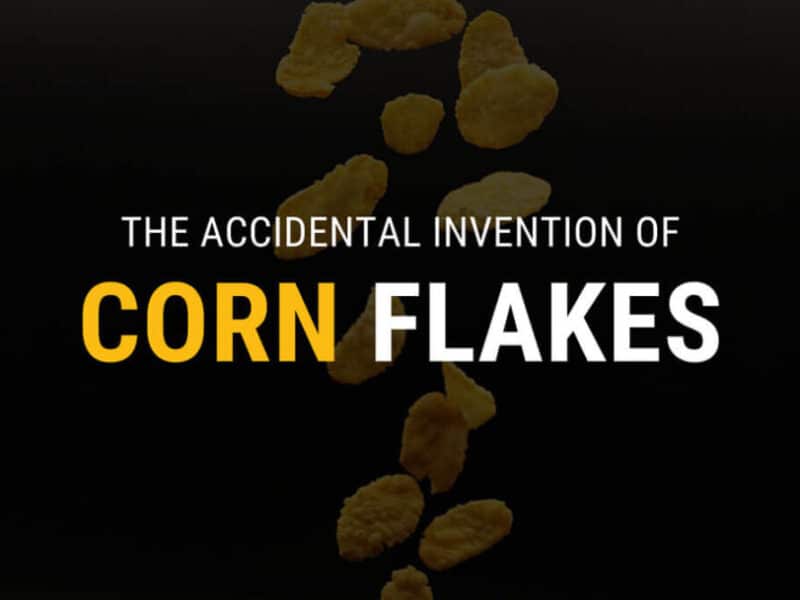 Corn flakes, a packaged cereal product is formed from small-small flakes of corn, usually the toasted ones. They are generally served with cold milk and sugar. People also have it with hot milk too.
These days, corn flakes are available in a variety of flavours such as honey, chocolate, sugar-frosted and many more. But, the corn-flakes you eat, have you ever thought about it? Like from where did it actually originate?
How were the corn-flakes invented?
Corn flakes were actually invented accidentally by John Kellogg and his younger brother, Will Keith Kellogg. So, they had left some cooked wheat while they were attending some important meetings for a pressing matter or issue at a sanitarium.
When they returned from there, they found that wheat was not so fresh to consume and had gone stale. But, as they were on a strict-budget, they decided to further process it via rollers. They were hoping to produce some long sheets of wheat.
But, to their surprise, they found flakes, small and tiny flakes. They then thought to toast those flakes. And after toasting them, they served them to their patients. So, this accident occured on August 8, 1894 and they filed a patent for "Flaked Cereals and Process of Preparing Same" on May 31, 1895. And it got issued on April 14, 1896.
The flakes of grains got popular with the name "granose". And became a very popular food then.
Mass Marketing of the Accidental Flakes
Then in 1906, John Kellogg's brother Will decided to market the product in masses. He decided to add some sugar to those flakes so that the mass audience can become a fan of those flakes. This experiment he did in his new company named Battle Creek Toasted Corn Flakes Company.
But, John wasn't happy with Will's experimenting with the flakes.
Then, in 1907 various weird campaigns were run by their company to increase the sales of these flakes. There was one campaign where if a woman winks at her grocer, she will take a pack of flakes to her home for free.
Also, in 1909, a special offer was run, where if you buy two boxes of cereals, you will get "The Funny Jungleland Moving Pictures Booklet" for free.
In 1928, his first sale went viral when he experimented with a new product named Rice Krispies. The most popular is the rooster one in green color which you might have seen in various corn flakes boxes. The rooster was named Cornelius "Corny" Rooster. That rooster is actually the mascot, it's like the branding for the Corn Flakes.
The idea of using a rooster was of Nansi Richards, who was from Wales. The Welsh word for a rooster is actually ceiliog (pronounced as kayleeog) and it very much resembled with the surnames of Kellogg's brothers that is Kellogg (pronounced as kaylog).
Conclusion
And thus, those flakes became popular with the name Kellogg's! And the most popular breakfast option.
Please follow and like us: